Florets #6: Two piece
by Salome Wagaine
Two stories: one fiction, one not.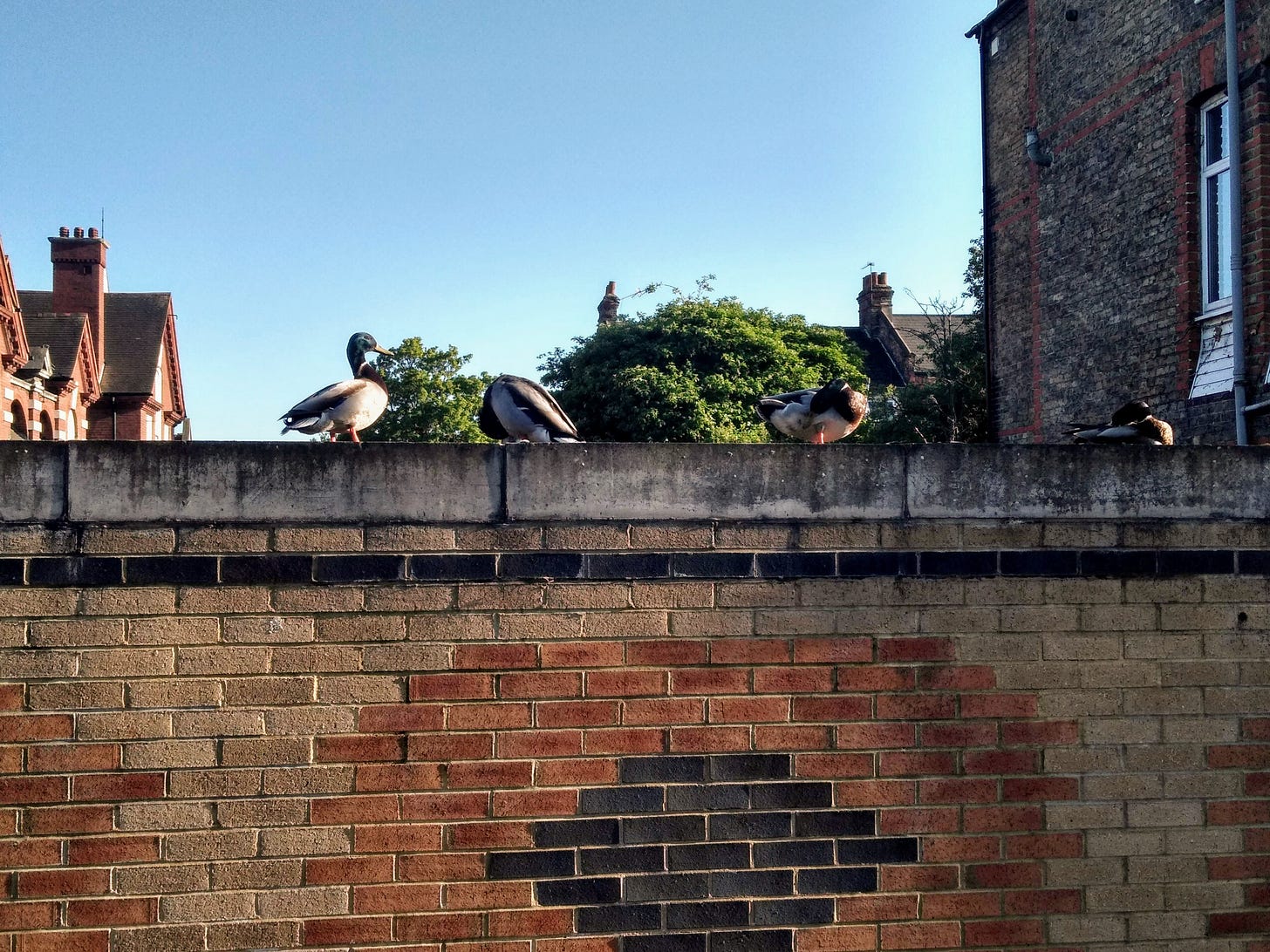 Passion fruit were the Oddbox add-on this week
I get the email and think back to making passion fruit juice with my diabetic father:
            water, the seeded fruit, sugar.
Gloop like an eye, colour of a peacock
This isn't one to share so I don't tell my housemate. In the meantime, I start my holiday as I mean to go on: steaming maggots out the living room rug on the Friday night.
I dream about kissing someone I shouldn't in Clissold Park: we hug as we say goodbye,
one arm moves down instead of away and there we are. I'm so starved I tell a friend to keep the ghost of it alive.
He wasn't diabetic because of that, btw. Nor the sugar cane he'd eat in the farmer's field on the way back home from school – no doubt less dry than what my parents managed to procure from the Burnt Oak cash and carry when they remembered to expose us to the culture
No, it was seasonal, actually, at first: his blood sugar came in like a period, months long, I believe, over the summer when he first developed it as a hurdling teenager. When it became a fixture, I don't know, but a fellow doctor wrote about him in a study I've yet to track down.
---
nobody
And they were out. It was not clear who decided it – the joy of huddling around some belongings piled up on the floor as the air horns interrupted and gave shape to the DJ's setlist of universal bangers evaporated – maybe something clicked in one person's head and the nod carried through their group.
Out onto the road, so much cold air, so much space where other people's breath had been. This was why they brought the coats out.
On the other side of the road, some of them got in the queue for chicken. Harry and Liv were ahead of her, paved the way without doing the thing the loud, maybe posh boys next to them were doing and dropping 'Bossman' when they could. They were from here, more or less, so didn't need to show familiarity in that way.
They sat down. She'd settled on wings and a drumstick, no fries (there'd be some going) and no drink.
Harry had to let it out: "I am drunk" over the scrape of the chair legs. She smiled; they were teenage drunk again, it was an achievement. And there had been no coke or trips to the bathroom or anything to muddy the waters tonight: everyone had just stuck to alcohol and got fucking pissed. He was there too, fingers round the top of Harry's chair. No wings for him, but he had partaken in the chicken. Good, she thought. We're roughly on the same level.
Citymapper sound the alarm and three of them: her, their mate Alex and him all managed to get on the top deck of one of the nicer lit buses. They were sat next to each other, but were turned around most the time to chat to Alex for his few stops.
Have you seen Dogtooth? No, she hadn't, been meaning to.
It was so jarring it had put Alex off sex for a week.
(Alex had a girlfriend. It had been less than a year.)
And then he was off and they waved. While turning to watch him go down the stairs, she moved towards the aisle and he moved away from the people going past they ended up meeting, just a touch. Her skirt had large popper buttons on it which felt promising as she noticed her tights just brushing his jeans. She'd done it again though: forgotten the girls weren't doing dresses right now. Jeans instead. Next time.
Two stops before his house it got less ambiguous. She should thank Alex really, for that prompt:
            A whole week? Perish the thought.
            Hmm, hmm.
She couldn't help but wince they first got to his room. Nothing wrong with it, just the bright harsh light the first 40 seconds. Lamps softened them up, but really it was the fact they made the most sense together when they didn't have any clothes on. There was a shudder and then a click and that lack of space between them, the point where a pointy shoulder would meet her rounder one, before the sweat formed, where a proudly stubbled chin would start at the sub-belly button space on its way down, that was where it felt the clearest. The conversation before never felt incomplete until after they were done having sex, but sharing a bed and a duvet, it became clear how much had been build up.
She got up before him. Last time, he had found the morning full of promise: in a conversation that made her certain he'd have the right temperament for fostering rabbits, he offered to make her breakfast. There was one housemate in common though so it obviously wouldn't have happened but still.
This morning, his sleep sent him to lie like a slab. He'd want her out quickly; there would be no prospect of a second round.
But it wasn't a dine and dash situation so she waited until he woke up to wake up. "Oh, oh" through yawns "I should go before –"
            "Yes, right – "
            "Yeah, don't worry, I'll be quiet"
He watched her from a view she could only imagine as deeply unsatisfying as she put her tights back on, pop pop pop the skirt (a-line, corduroy, weirdly successful) up and top too. Bag on, shoes held till the front door in case there was a tell-tale floorboard on the stairs.
One the street, she could feel the plaque built up over what, seven hours? To make up for it, she grabbed daffodils along with the orange juice and almond croissant at the Sainsbury's before the bus stop.
The best song on that Mitski album was playing when she got her keys out at the door of her place. She played it again, and then again when she got out the shower and brushed her teeth. The sad disco chorus – one word – was going as she rubbed her hand on the corner of her hair towel to get rid of the excess coconut oil odd and sang alone, firm enough it wasn't aimless humming, but mindful of her housemates.
It would be another three hours before she'd take an ibuprofen and two more would pass before she'd struggle out to get lamb biryani and chana masala from one of the places on the high road she'd made her tradition.