Florets #4: Ego Death
by Nikita Karia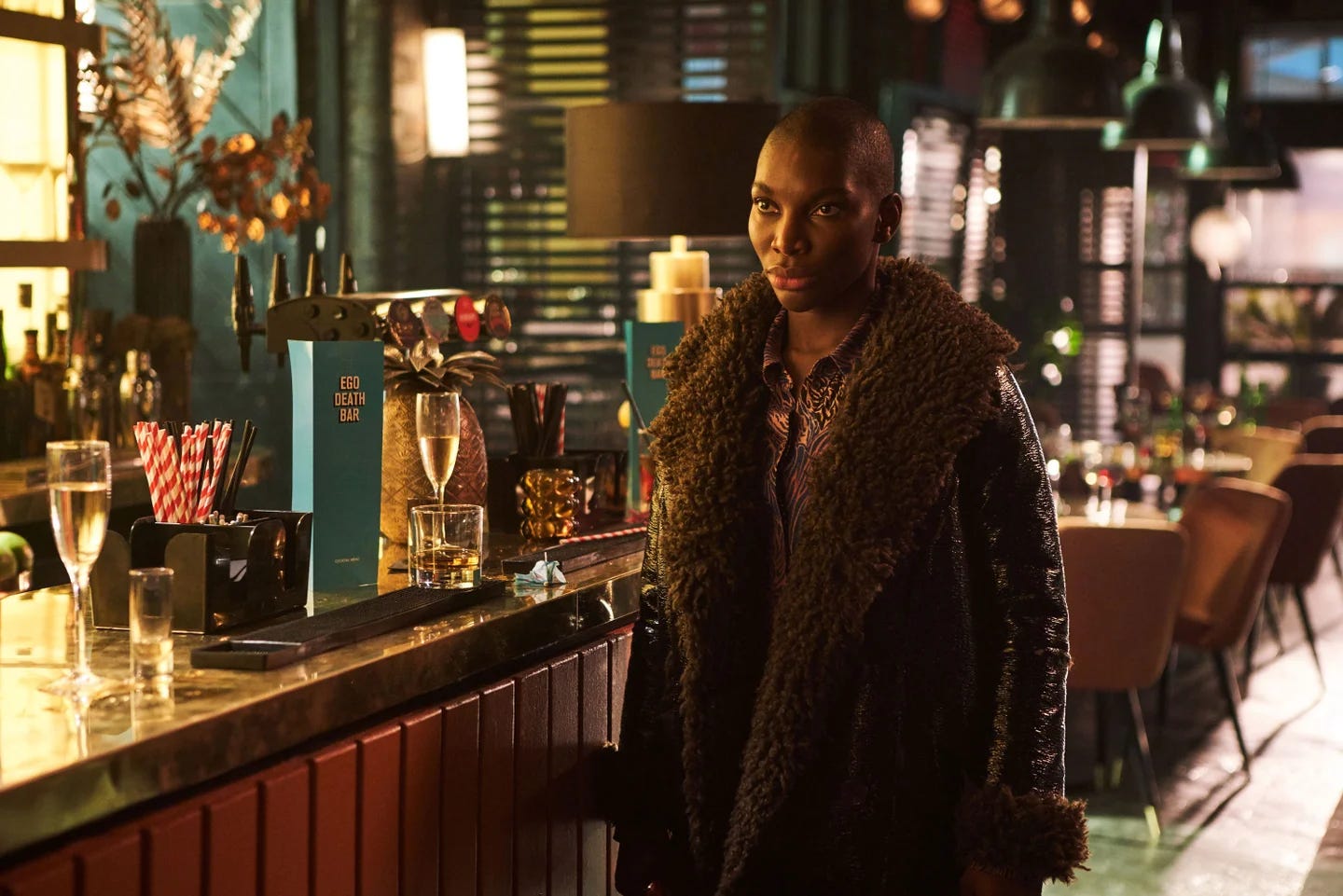 Fans of Michaela Coel's masterpiece, I May Destroy You, will recognise the term 'Ego Death' from the very first episode in which Arabella, a black millennial woman from London, indulges in a procrastinatory drink in a bar called 'Ego Death'. This term refers to the extreme high that can be induced by consumption of hallucinogenic drugs. With this in mind, I could understand the decision to use this as a name for the fictional bar: vague enough to be Soho-trendy but, for those in the know, an explicit reference to hedonism and exclusivity (Ego Death is experienced by few; its rarity lends it prestige amongst the psychonaut community). As the rest of the episode unravels, we learn that it was in this bar that Arabella was spiked and raped. 
The shot of Arabella walking into Ego Death Bar caught my eye. The camera teasingly lingers behind Arabella's shoulder as she is let in by the bouncer then suddenly, we are inside the bar watching Arabella walk through the door. The decision to cut as opposed to using one continuous shot through the door is deliberate: it is disorientating and sudden, like an assault on the viewer… perhaps a premonition of what is to come. Arabella leaves the frame and we are left with a close up of the door shutting behind her, on which the words 'EGO DEATH BAR' are printed in shiny gold mirrored lettering. The letters appearing in reverse as well as the camera lingering on this shot for a second longer than usual suggests the poignancy of this moment. Coel wants us to remember this phrase. 
Up until this point, Arabella's character positively fizzes on the screen. From her bubble-gum-pink wig, to the nonchalance with which she rolls a joint on the loo while on the phone to her editor – she exudes 'pink hair, don't care' attitude. But in the days after realising what has happened to her, Arabella is a shell of herself. Ego Death is suggestive of the impending trauma, a trauma so lethal that it shatters your sense of self. Ego Death is also the name of the series finale. To help us understand the poignancy behind the titular decision, it's essential to grasp the philosophy behind ego and Ego Death.
What is Ego?
In modern psychology, "the ego" refers to self-concept. Carl Rogers, an American psychologist, defines self-concept as constructed of three components: self-image (the way we see ourselves), ideal-self (the way we would like to be) and self-esteem (the value we place on ourselves)
Ego, or self-concept, manifests itself in Arabella's quotidian life. The most modern and explicit medium for it in IMDY is through social media: Arabella becomes obsessed with documenting her life online. Taking a photo of yourself is innately a representation of self-image. The surroundings in which she takes that photo (at a party/with friends etc) is a manifestation of the ideal-self. Acquiring 'likes' plays into her self-esteem. Similarly, ego is manifested through her art. The act of writing a book feeds into her self-image as this contributes to the way she defines herself as a writer. Ideas and themes within the book are reflections of the artist's self-image or sometimes, they reflect the way the artist would like to be seen by others (ideal-self). The way her writing is received by readers and the celebrity status it gives her, impacts her self-esteem. It becomes apparent that Arabella's seemingly strong sense of self-concept, which initially made me question whether the death of it is even possible, is in fact an ego defence: constructed to protect her from feelings of anxiety or guilt. 
Ego Death or Ego Dissolution, used amongst philosophers, psychologists, psychonauts and Buddhists, describes an alteration of the psyche which equates to a temporary loss of one's sense of self. It can be achieved through consumption of psychedelics or deep meditation resulting in a spiritual rebirth following which one is truly free from suffering. In the final episode of I May Destroy You, Coel presents three fictional scenarios of Arabella confronting her rapist. These imagined scenarios represent her process of reflective mediation with her trauma - a process which I will argue parallels the process of Ego Death - and results in her making the first steps towards healing. 
Undergoing Ego Death has been equated to a 'rewiring' of one's Default Mode Network (DMN). The DMN is a group of brain regions responsible for introspection and for the formation of one's sense of self or ego. As we get older, we respond to life in a "patterned way" forming habitual "pathways of communication" which becomes more constrained as we develop. It is these constrained pathways which constitute our 'default mode' of operating in the world and form the ever-narrowing lens through which we perceive reality. 
A resetting or rewiring of the DMN occurs through ego death: ego death allows an individual to alter their usual, repeated behavioural patterns and thoughts, and permits you to respond in a more 'open' way. This resonates with the final episode of I May Destroy You which is constructed of three separate re-imaginings of Arabella's encounter with her rapist with differing outcomes, one of which shows Arabella expressing empathy towards him. 
In order to deal with huge amounts of incoming sensory data, the DMN functions as a filter or "reducing valve" which allows into awareness only the thoughts that conform to our self-image resulting in a binary and self-constructed lens through which we perceive reality. In Arabella's case, she perceives reality in dualistic and opposing terms: victim vs perpetrator; good vs bad; friend vs enemy. She becomes a larger-than-life spokesperson for victims of sexual assault; her insistence on speaking up further perpetuates notions of wrong vs right: when faced with Kwame's predicament (he doesn't disclose being gay to a woman until after sleeping with her) she ignores the nuance of the scenario and immediately categorises him as being in the wrong. Viewing life through the prism of her assault jeopardises friendships with her closest friends and prevents her from healing. The binary is symbolised through her Halloween costume: Arabella dons a black devil-inspired costume while her friends are dressed like saintly angels.  
In episode 9, it is Arabella's therapist who explains the danger of separating perception and reality using a duo of symbols separated by a line. Arabella's dualism or insistence on separating these two notions is a means of deflection and is detrimental to the process of healing. At the end of this episode, a figure representing Arabella's conscience speaks to her, instructs her to "look in the mirror" and confront her ego thus triggering the process of reflective mediation that we are privy to in the final episode. 
Arabella does not encounter her perpetrator. But by confronting the evil through this series of emotional processing, the trio of scenarios the audience is presented with in the series finale, she learns how to master it. It is common after experiencing Ego Death to be met with a sense of solace and at-one-ness. Having reflected on these possible outcomes, she is able to start healing: she completes her book that she has struggled to write throughout the series. The book cover design is fittingly an amalgamation of the symbols used by her therapist to condemn her dualism. The integration of the symbols is symbolic of her psychological integration: her psyche is organised into a whole that functions effectively and counters the fragmenting effects of trauma on her ego. 
Initially I found this trilogy of hypothetical endings not a wholly satisfying way, in the sense of a traditional narrative, to end a series finale. But after revisiting it through the lens of ego death and psychology of the self, I, like Arabella, found closure knowing that she was not destroyed.